Dental Implant-Supported Overdentures
(Snap-On Dentures)
Implant-supported overdentures from Dr. Parker and Marshall Denture Clinic let Tyler dental implant patients enjoy the freedom to eat what they want and smile with confidence. Two or four titanium implant posts placed in the jawbone secure a custom denture and hold it firmly in place. Special attachments applied to the denture adhere – or snap on – to the dental implants for solid support. Your implant dentist may affix a dental bar to the implant posts for added strength and stability.
Implant-supported overdentures from Marshall Denture Clinic look and feel completely natural. They're removable, too, so cleaning is a breeze. And, you can forget about denture adhesive – you don't need it!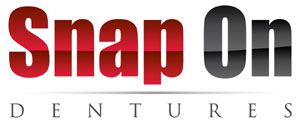 Rediscover your smile! Call Marshall Denture Clinic today at 903-935-6282 or toll free at 800-648-5491 to schedule your personal appointment with Dr. Parker. We design custom implant dentistry solutions for patients in Tyler and surrounding areas.